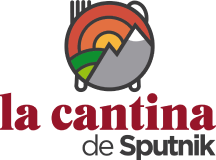 At La Cantina we want you to feel, more than in a restaurant, at home. We work with local products so you can fall in love with our healthy and flavorful options (because they can work together).
So, our menu has options for all palates, from vegetarian dishes to smoked burgers to menus for kids and groups (yes, we like partying).
But not everythimg is about eating, every month in La Cantina we organize live shows with local bands so that you can celebrate your climbing session (if you want to visit the climbing wall) or so you can shake your body.
Come and take our breakfast, lunch, snack, dinner, supper, whenever you want, we'll be waiting for you with open arms, cold drinks, tuned guitars and freshly cooked food 15 minutes away from Bilbao.